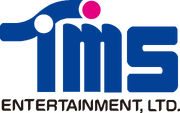 TMS Entertainment (株式会社トムス・エンタテインメント, Kabushiki gaisha Tomusu Entateinmento), formerly known as Tokyo Movie and Tokyo Movie Shinsha is a production and animation company owned by Sega. They are involved with almost all animated productions regarding Lupin the 3rd and are also involved with the merchandise. While Monkey Punch has created the series, TMS had more involvement and are credited next to him on copyrights outside of the manga.
History
TMS was founded by Yutaka Fujioka in October 1946[1], beginning life as a textile manufacturer under the name Asahi Gloves Manufacturing Co., Ltd. It would venture into animation in August 1964 as Tokyo Movie with their first animated project being Big X. In 1965, an animation studio called A-Production was set up and became one of the studios that Tokyo Movie used in the 1960s and 1970s that then had the talents of Yasuo Otsuka, Hayao Miyazaki and Isao Takahata. They were known for bringing different experiences in terms of animation from creating comedy shows, to josei anime and even adult animation.
In 1969 Tokyo Movie adapted the Lupin III manga as a 12-minute Pilot Film. Due to its adult content, no financial backer had picked it up. Two years later YTV picked it up to be greenlighted for a TV series, however most of the staff involved had left by then.
Tokyo Movie closed down in 1976 and was restructured as Tokyo Movie Shinsha (Tokyo Movie New Company). A-Production was changed to Shin'Ei with many animators such as Yuzo Aoki moved to TMS. Their first project was Lupin the 3rd Part 2 that became highly successful enough to produce their first feature length animation film Lupin VS the Clone, known internationally as The Mystery of Mamo or The Secret of Mamo.
TMS started to focus on the International market as they set up Telecom Animation Film originally for this purpose. In the late 1970s, TMS had exported their anime to US and Europe and along with Toei and Sunrise, causing an anime boom in the country. They attempted to branch out into the US with The Castle of Cagliostro, however a lack of interest at the time meant that they had to abandon their plans of releasing anime despite that a video tape copy of Mamo was made and bootlegged. This increased when TMS started doing outsourced animation such as Inspector Gadget and co-productions such as Sherlock Hound. Briefly in the 1980s, TMS had expanded their US branch to focus on cartoons however this did not last long with The Mighty Orbots and Galaxy High.
In 1987, the company had become badly managed due to that Little Nemo in Slumberland was in development hell and had issues causing the staff to leave after The Fuma Conspiracy and its change of voice actors. As a result, they were more focused on doing outsourced animation for Disney, Warner Bros. and DiC (because various US animated shows that was more popular in Italy and they performed better than original anime shows) using their contracted studios. However by the late 1990s, it had become too expensive for US studios to use and so TMS focused more on their domestic animation such as Detective Conan. During this time in 1995, they were bought by Kyokuichi, a textile company.
In 2000, the company was officially renamed to TMS Entertainment and in 2005, TMS became a subsidiary of Sega Sammy Holdings.[1]
List of Works
The wiki only lists works that features Lupin. Unofficial cameos such as Panda Go Panda and the Animaniacs episode "Sir Yaksalot" that they had involvement are not counted.
As Tokyo Movie
As Tokyo Movie Shinsha
As TMS Entertainment
Supervision
TMS were not involved with the animation or production however they had supervised the following:
Subsidiaries
A-Production (1965-1976, outsourced animation)
Telecom Animation Film (1978-present, production, animation and former outsourced animation)
TMS Entertainment USA (1980?-present)
Marza Animation Planet (CG animation, founded 2005 and became part of TMS since 2017)
Notes
As mentioned, the company was officially renamed to TMS Entertainment in 2000 however the name was used earlier. Cliff Hanger is credited with the present name.
Some of their outsourced work have them being credited as Tokyo Movie Shinsa.
Lupin III has had crossovers with The Rose of Versailles and Detective Conan, both shows produced by TMS.
The TMS logo uncommonly appears in animated productions, instead their name is usually rendered in Japanese. The first logo was only used in the first Italian credits of Part 2, the second logo appeared in the Italian release of Plot of the Fuma Clan while the current logo has been used in the International masters of the TV Specials since Alcatraz Connection, the International masters of Part 2 and on the English dub of Part 5. It is unknown whether Tokyo Movie ever had a logo.
TMS usually produces two (or more) different versions of an animated production. These are known as the Japanese masters and the International masters. The Japanese master (outside of Part IV) is considered to be the original while an International master makes changes. These vary from having clean animation where they might have text in the Japanese master and spelling fixes to changing the intro however International masters have less credits compared to the original, may remove the episode previews and may feature censorship. The exception is Part IV where the International master used in Italy and the US is the original while the Japanese master has improved animation and changes in some scenes.
External Links
References