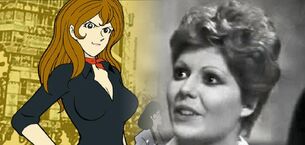 Piera Vidale (6 June 1944-28 November 2018) was an actress, dubber and voice actress born in Milan, Italy.
Biography
Piera was the original Italian voice of Fujiko Mine even though some sources claim that Serena Spaziani voiced her in Lupin the Third Part I. She was replaced by Alessandra Korompay in the television redub of The Mystery of Mamo and when Mediaset got the rights to the series since 1987.
Outside of being Fujiko, she was also the dub voice of Shirley Feeney Meaney from Laverne & Shirley, Sarah Jane Smith from Doctor Who and Penelope Pitstop.
The only time she returned to the series were the two Red Jacket styled PlayStation 2 games who recruited most of the original voice acting talent outside of Marcello Prando who was replaced by the usual Zenigata voice actors (Enzo Consoli for Treasure of the Sorcerer King and Rodolfo Bianchi for Lupin is Dead, Zenigata is in Love). Afterwards she was not involved in the series and she passed away on November 28, 2018 in Rome.
Roles
As Fujiko Mine