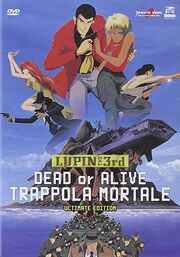 Lupin III: Dead or Alive is a 1996 Japanese animated film directed by Monkey Punch. It is the fifth and latest feature film in the Lupin III franchise. The North American release was done by FUNimation; the film is available both individually and as part of their "First Haul" box set.
Summary
Lupin, Goemon, and Jigen take a mini-helicopter and head to the mysterious "Drifting Island" looking for a treasure rumored to be hidden somewhere on it. Through their exploration of the island, the trio encounters the lethal "Nanomachine," the island's security system. The trio triggers the alarm, springing "the Nanomachine" to life. The key to solving the island's mystery lies in the small nation of Zufu. This once prosperous nation is now ruled by the ruthless, knife-collecting, General Headhunter. Fujiko does her usual probing and hacks into General Headhunter's computer hoping to find some crucial information. Zenigata has received a video message from Lupin in which he announces his desire for the priceless treasure. Oleander, a fiery blond officer with some hidden secrets of her own, steps in to help Zenigata. Armed with their newly found information, Lupin, Goemon, Jigen, and Fujiko go back to "Drifting Island," but this time they are followed by General Headhunter.
Production
Monkey Punch, the original creator of Lupin III, was the director of the film. However, he claims it was not something he wanted to do. The production had a short deadline and as there was no director, he accepted the role. He said the experience was too demanding and claimed that it was the other people involved that "saved" the film, and added that he never wants to direct again. He only directed the opening and ending sequences; the rest of the film was primarily handled by the assistant director. Monkey Punch has discussed this in both written interviews and on the brief video interview on the Dead or Alive DVD as released by FUNimation.
Trivia